Stack Gas Combustion Treatment Unit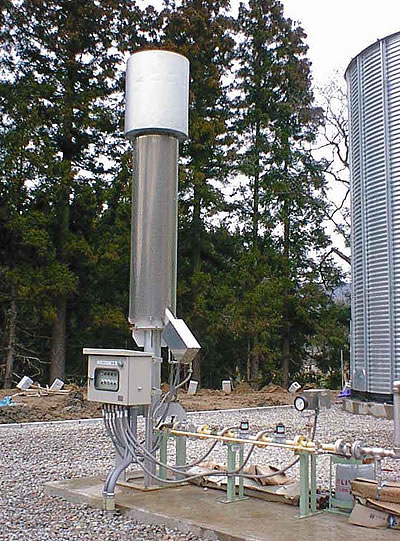 Best Cost-Performance type / Stack Gas Combustion Treatment Unit

Stack gas should be treat without contain toxic gas, unburned gas, etc.
This system can operate Full turn key sytem with safety and efficiently to reduce
toxic gas and unburned.

This unit also can operate following condition with our flame stabilization technology.
Gas composed is changing
Gas flow rate is changing
Gas temperature is changing

This system equipped flame detection for monitoring stack gas flame and safety magnetic gas valve.
Also flame arrester are equipped more safety purpose.

This unit made Vertical type to reduce floor space and no use Air blower for combustion.
This is contribute to save electric power and Low noise condition.
USES
Sewage Gas, Fuel cell stack gas, Byproduct Gas
Low calolific value gas, Toxic gas, Smell gas
Stack Gas Combustion Treatment Unit

Feature
1.
Full turn key
2.
Eliminate flow rate change
3.
Flame detector equipped
4.
Small installation area
5.
Stack is high position
6.
Natural draft type
7.
Packaged with easy Installation



| | |
| --- | --- |
| Toxic Gas Treatment Unit | |
Type
LCI
-05
-25
-50
-100
-150
-250
Installation
Outdoor Specific・Non Explosion proof
Safety standard
City gas three company standard
Safety Device
Pilot flame monitoring
Operation
Fully automatic operation
Condition
Temp.
℃
At normal temperature
Flow Rate
Nm3/h
5
25
50
100
150
250
Gas pressure condition
kPa
3 (300 mmAq )
Gas Calorie
MJ/Nm3
8.5〜20 (2,000 〜5,000kcal/Nm3 )
Connect size
mm
25
50
80
100
100
100
Pilot gas combustion rate
Combustion rate
kW
5.8
9.3
9.3
11
11
11
LPG(2.8kPa )
Nm3/h
0.21
0.33
0.33
0.42
0.42
0.42
12/13A(2kPa )
Nm3/h
0.5
0.8
0.8
1
1
1
Power
Single phase-kW
1
1
1
1.5
1.5
1.5
Dimension・Weight
Dimension
mm
A
25
50
80
80
100
100
C
400
460
460
560
650
750
D
2,500
3,100
3,200
4,700
6,000
7,000
Installation volume
mm
D
2,500
3,100
3,200
4,700
6,000
7,000
E
900
1,000
1,000
1,500
1,500
2,000
F
2,800
3,000
3,500
3,500
4,000
4,000
Basic Dimension
mm
G
1,100
1,200
1,200
1,700
1,700
2,200
H
3,500
3,600
4,000
4,000
4,600
4,600
Total weight
kg
350
400
550
800
1,000
1,200
Option
Seismic sensor,Flow meter,Indoor specification,Remote control panel,supply condition change
Exclude
Foundation work, Anchor bolt, Installation work, Secondary wiring and plumbing


Burners

Boiler
Incinerator of dirty gas
oxidized deodorant furnace for
organic ・Decompose furnace for
VOC treatment

Air heater

Preheat for vessel ・Furnace
Air heater for compost making
Aluminium pot type melting furnace
Aluminium melting furnace
Food
Incinerator・Rotary kiln
Duct Burner: Heat up for Mist
Paint dryer, others
Environmental improvement tool
Biogas and others incinerator
Gas Burner for Biogas
Tool for saving energy
Ret to Air Heater, Flare other industrial equipment list